Chris Lamb (Lamby) vient d'être réélu Debian Project Leader (DPL). Il va donc pouvoir continuer le travail commencé l'année dernière, et vous pouvez lire sa réaction sur son blog.
Ce n'est bien sûr pas une surprise puisque Chris était le seul candidat, et qu'il n'y avait aucune raison valable de lui préférer None Of The Above et ainsi de provoquer de nouvelles élections. Voici une représentation du résultat du scrutin qui utilise la méthode Condorcet :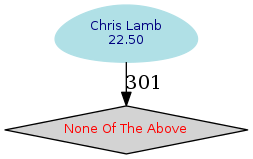 Bravo à toi Chris, et bonne chance dans la mise en œuvre de ton programme !
Tags: Chris Lamb, Debian, DPL, Libre, Linux